Community AED Program
With the help of donors, Reid Foundation purchased and distributed 291 Automated Electronic Defibrillators (AEDs) in 2011 and 2012. Seventy-five were donated to area school systems where people, young and old, gather each day. The remainder went to non-profit organizations. This effort began with Eaton Library, Cope Environmental Center and Camp Yale in Randolph County.
We often hear stories of men, women and children who have died from a heart-related incident - many could have been saved if an AED had been available and a bystander willing to follow simple instructions used it.
For those of you who joined in this important endeavor to make AEDs available in our community - thank you. The cost of each device was negotiated at approximately $1,000 bringing the total cost of the program to $225,000.
An interesting fact…
Knowing some people are intimidated by the use of an AED, a team of experts as well as individuals with no clinical background interviewed several companies to find an AED that anyone could use. In fact, the chosen device actually talks the user through the process and will not continue to the next step until it senses the previous step has been completed. It then assesses the patient and only administers shock if needed.
Don Smith
A typical day for Don Smith is spending time with his wife of 43 years and his dog at their country home in Greenfield. On occasion, he travels to gun shows, which is what brought him to Richmond December 12, 2009. It was a day he won't soon forget.
Don was at the Kuhlman Center at the Wayne County Fair Grounds visiting with a friend. He suddenly became dizzy and passed out, and when he woke up, he was at Reid Hospital.
The retired fire fighter had spent 32 years rescuing others, but this time, Don would be on the receiving end of the rescue. Fortunately, several people rushed to help including two off-duty Richmond fire fighters, an off-duty state trooper and a retired firefighter from Crawfordsville.
"They lost me twice during that time," Don said. "With their help and an AED, I'm here today."
"The hospital called and said there had been an incident," Don's wife, Pat, said tearfully. "I walked into his room at Reid and he was sitting up, so I didn't realize how bad it was. Then the doctor told me he had died."
Reid heart physicians, Dr. Schmidt and Dr. Han, were ready to step in as soon as Don arrived.
Through Don's time with the Indianapolis fire department, he spent a lot of time with Emergency Medical Services (EMS) and in hospitals. "I thought everything was peaches and cream there, but at Reid they treated me like a person, not a number," Don said. He and his wife appreciated the personal attention and friendliness of physicians and staff.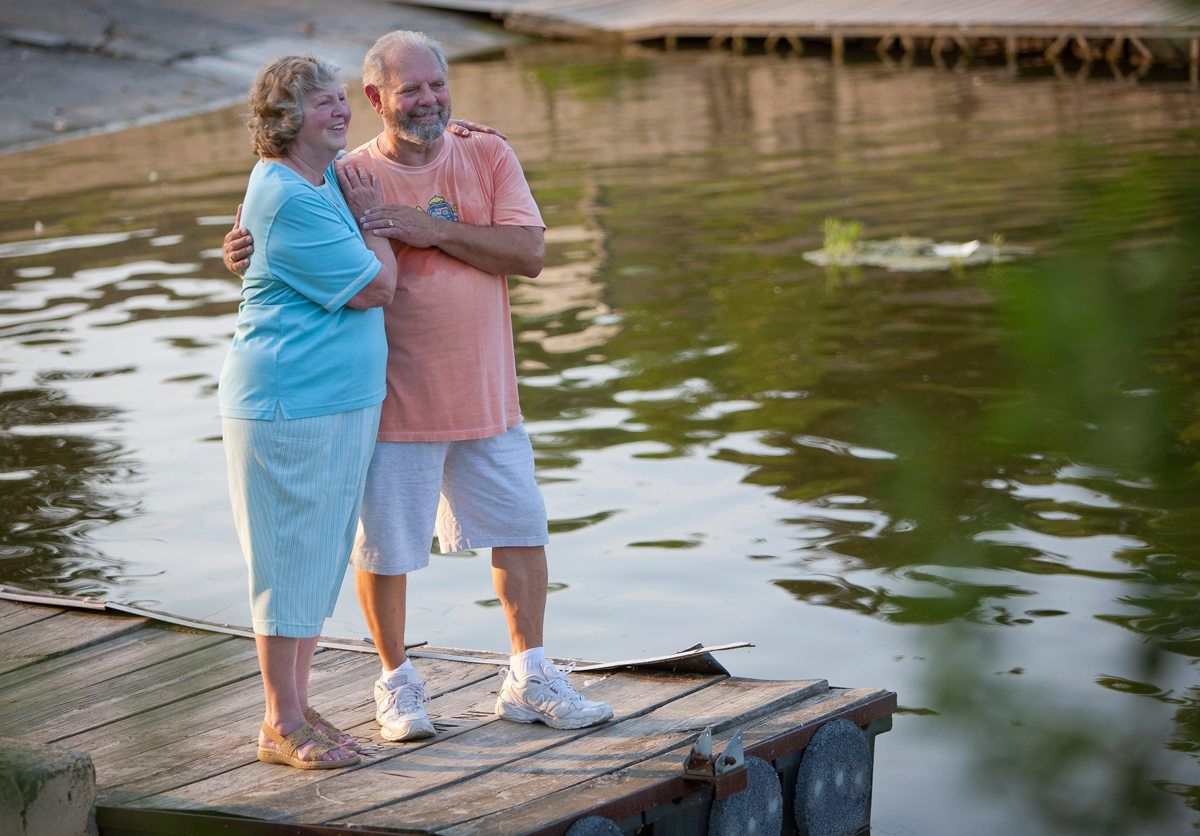 Nearly two years have now passed. Don is thankful each day for the available AED and those who stepped in to help during his moment of need. He has since had the pleasure of meeting each of them and offering a personal "thank you" for their part in saving his life.
"Now we can look forward to our 50th anniversary." Pat said.
"I couldn't have pre-planned it any better," Don said.