Mother Baby Care – Be Our Guest
Reid Foundation is pleased to support the program that provided Leslie Walther with a complimentary room during her premature baby's hospital stay. We understand that special circumstances sometimes call for extra-special care. At times, parents or family members need to be near their child on the Mother/Baby floor.

Please help other families like the Walthers by donating to our Mother/Baby fund.

To make a secure online donation to this fund, click below.

Leslie Walther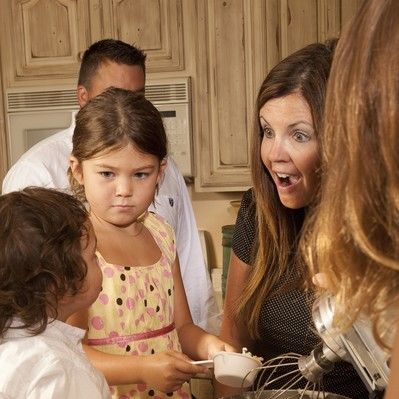 Leslie Walther learned everything there was to know about Reid Mother/Baby throughout her 87 day stay. That stay made a permanent imprint on the lives of her and her young family.

Complications during pregnancy were not new for Leslie. She had experienced mild challenges while pregnant with each of her three daughters. However, this time things were different and the risk was far worse for both Leslie and her baby, so on September 15, 2008 Dr. Joseph Smith admitted her - and the hospital became her "home" for nearly three months.

Fortunately, Leslie and her husband Andy had a strong support group through their family and church. "It is one thing to believe in God and His love," Leslie said. "It is another to have that love acted and lived out. Not one day passed where I ever felt alone."

Leslie and Andy quickly established relationships with the nurses, who became their family. The little things made a big difference, like how the nurses came in and moved her to another room so she could look out a different window or how they took her on a daily wheelchair ride. "They all had different personalities - one was a motherly figure, some were funny - they were all great!"

"Dr. Black was my cheerleader. He would come by and tell me to hang in there," said Leslie. "Dr. Bode would check in on me once a week and Dr. Smith was amazing!"

Following numerous long days, some good and others difficult, Thanksgiving Day arrived. Leslie's water broke and her baby boy would soon be welcomed into the family full of girls. As happy as Leslie should have been at that moment, she knew that her baby was still eight weeks early.

Since she had been lying in bed for months, Leslie's epidural was proving to be difficult. "I remember saying, 'let's just all stop and pray,' and the nurses took turns praying out loud," she recalled. In a short while, Dr. Smith delivered a strong four pound baby boy, Eli. Though Dr. Black anticipated sending Eli to Indianapolis, he was able to keep him at Reid and close to home.

Leslie was soon discharged from the hospital, but throughout the next three weeks she needed to be close to her baby, so through the Be Our Guest program, Reid allowed her to stay in a room at no charge. "I felt more like it was an apartment than a hospital," she said. "I even had a Christmas tree in my room!"

Now, nearly two years later, Andy and Leslie have a beautiful family and Eli is healthy and strong. Leslie missed a lot of special moments while she was in the hospital - theatre practices, soccer, 4-H, a birthday party, tucking her kids into bed, and her traditional Christmas cookie party - but in the end it was worth it. "I would do anything for my kids," Leslie added. "We are so blessed!"

Leslie received an amazing gift on that Thanksgiving Day. For that priceless gift, she is thankful.

Leslie shared her story with her church family on the 29th of November nearly a year after her son Eli was born. Click here to read it.